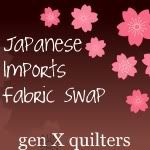 I received my fabric this week! I had originally thought that I purchased the
elephants on blue
background, but I actually bought the natural background and I have to say, I like it better!
This was my first time ordering from
SuperBuzzy
. And I'm really happy with the service! The shipping info page says 5-7 days processing and 2-6 days transit. I ordered on Friday, April 22, in the afternoon and the package arrived via priority mail envelope on Monday, May 2. I only mention it because it's a bit longer than some other places I've ordered from, but it is exactly in keeping with their posted policies. So I give SuperBuzzy two thumbs up!
They also put two Japanese candies in the package, which my husband happily gobbled up!
Now, all I have to do is cut them up into charms and get them out in the mail to
AnneMarie
.
This week I've been focusing on some small Mother's Day gifts. I'll probably post them this weekend or early next week. It's Thursday and I just got them into the mail today - nothing like taking it down to the wire!